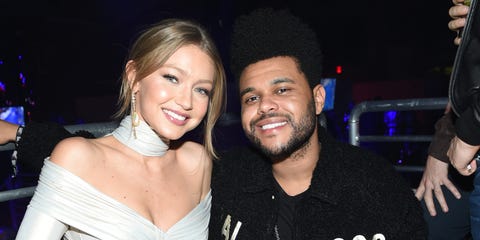 Getty ImagesDimitrios Kambouris
Here's something that has never happened before publicly since The Weeknd and Bella Hadid got back together this summer: The Weeknd hanging out with her older sister Gigi Hadid. The two were photographed tonight happily chilling at the Victoria's Secret Fashion Show after party. It was before Bella was photographed in her look on the red carpet.
Advertisement – Continue Reading Below
Gigi wore a sleek white jumpsuit with a choker neck. The Weeknd, meanwhile, kept it more casual in a black jacket and top.
This turn of events is remarkable considering just last March, Gigi was visibly griped Bella's hand to support her when The Weeknd was performing at the H&M fashion show they were both walking. Then, he was Bella's ex and dating Selena Gomez. And Gigi was just being protective: